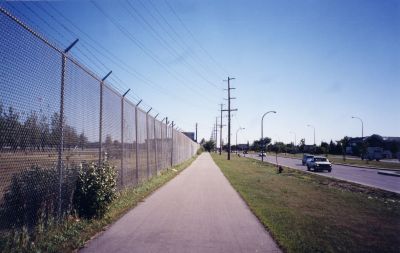 Waverley St. at Parker Ave.
Bicycles and Winnipeg
Also see:
Winnipeg could be such a great city for cyclists! Unfortunately, the City has not done enough to make the city safe and convenient for cyclists.
Most large streets are simply unsafe for cyclists, and there are very few bicycle lanes in the city. Riding on sidewalks is illegal, so this really leaves cyclists with no safe commuting route.

The City is very automobile-centric. Since all routes are designed for cars, it is very difficult for cyclists to navigate around infrastructure such as bridges and busy crossings.

Winnipeg's car and even bus drivers are not accustomed to cyclists; this poses more of a challenge to Winnipeg cyclists than in other Canadian cities. The City should therefore realize the immediate need for more cycling-friendly infrastructure.
Any modern Canadian city, especially one that purports to be so "green", should invest more in cyclists. During the first week of university I personally talked to well over 200 students; most of whom either said they already commute on bicycle, or would bicycle if only it was safer to do.
I have designed a postcard that Winnipeg cyclists can send to their city councilor to help impress on the City that cyclists demand more consideration.
---
What can you do?
Download either:
Download the postcard (links above) and print it out on heavy paper such as cover or card stock
Cut along the guide lines (each page has two cards on it)
After reading the statement on the card, fill in your name, address, and comments. Make sure you sign the card.
Remember that this is your own statement directed to your City representative. Write your city councilor's name above the Main street address on the card to make sure it reaches the correct politician.
Affix standard letter mail postage and mail. The card meets Canada Post format requirements.
You CAN make a difference -- but you have to speak up!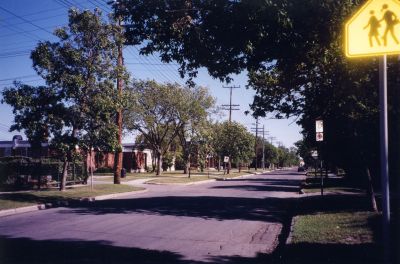 Beaumont St. near McGillivray Blvd.
---
Web page and photos are © 2003 Jem Berkes
The postcard is in the public domain
Contact: jb2004@pc9.org